So again I find myself with a recipe that I want to shout about from the rooftops.  I already ambushed my neighbor on her way to her car, now it's viral time.
Hesser rightly points out that this dish became too popular for its own good in the 1990s.  It started out on the A-list but quickly became over-exposed and, like our own erstwhile Governor, it just kept showing up long after people were even remotely interested in seeing it.  As she says, when Domino's pizza introduced their version in 2009, it was officially over.  I guess the take away here is that when Rod  Blogojevich shows up on a Domino's commercial we'll know our long national nightmare might finally be at an end.
But I think enough time has passed for this worthy dessert to make a strategic come-back.  It's too good to lose forever.  It is such a brilliant combination of ridiculously easy and intensely delicious and, I swear, takes no longer than a decent salad to put together and bake.  It's in the oven for 12 minutes people — we can all do this.   And bonus: it's truly elegant and sophisticated.  It's stuff like this that makes people think you can cook.  Trust me.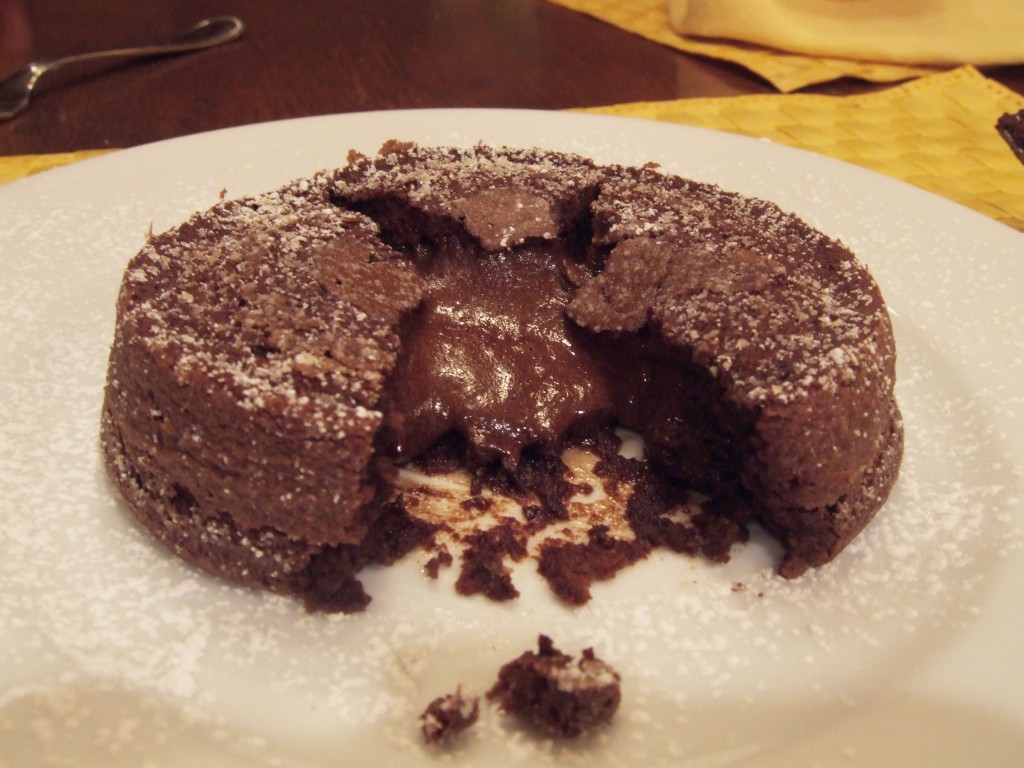 The ingredients are minimal: butter, bittersweet chocolate (I used my regular grocery store Ghirardelli), eggs, egg yolks, sugar and a tiny bit of flour. I defied the instructions and melted my butter and chocolate in the microwave vs. a double boiler. Sue me. I assembled everything and just waited until we were on our last bites of dinner to put the ramekins in the oven. Because time is of the essence: they bake for precisely 12 minutes after which the ramekins are inverted onto a plate where they rest for 10 seconds, then voila.  The aroma when they're released might actually make you weep a little.
I dusted mine with powdered sugar but there are any number of garnishes and acoutrements one could enlist here. Creme anglais comes to mind. Raspberry puree. Whipped cream. All of the above.
The one minor thing I might change next time is to add just a pinch of salt.
Warm Soft Chocolate Cake, by Jean-Georges Vongerichten with Mark Bittman, is on page 773 of The Essential New York Times Cookbook.