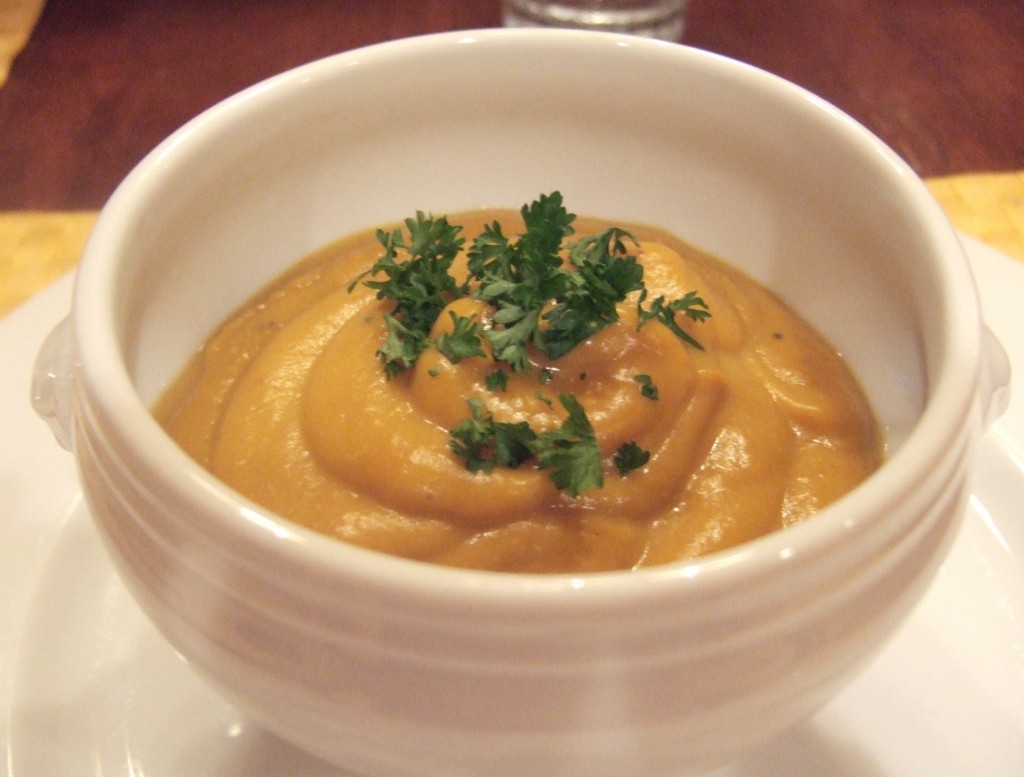 The 80-degree temps seem to be over and I no longer feel foolish making things like hearty soups. I hate being seasonally out of sync so this is quite a relief.
Dorie says that this is a beloved soup in France. Traditionally made with a Red Kuri squash which is also known as potimarron ("pumpkin" + "chestnut"). I know I should have hunted one of these Gallic delicacies down at the farmer's market but that was just not going to happen last weekend so I used Dorie's approved substitute: butternut squash plus a jar of chestnuts.
The Kuri squash has the advantage of not needing to be peeled; the skin breaks down during cooking and becomes completely edible and delicious. This is a tremendous advantage because there are few kitchen tasks I hate more than peeling and chopping squash. They're unwieldy, heavy, thick and slippery, almost as if they were designed to get you to lacerate yourself. I don't even participate in the Halloween pumpkin carving at my house, so far-reaching is my unwillingness to do battle with these stubborn and vindictive gourds.  I know they make bags of already peeled and cut up squash — both fresh and frozen — but they never seem to be around when you're looking for them. Kind of like shopping for a black cocktail dress for something you have to go to in two days.
Nevertheless I sharpened my bayonet, wrestled a 3 lb. butternut squash into submission and made this lovely soup. The chestnuts give it a wonderful and unique flavor — I can only imagine what the real Kuri squash would taste like. It's very thick and remained so even after I added probably 3/4 cup of milk at the end.  It's also completely vegetarian as it uses no stock, just the squash, some leeks, milk, chestnuts and water.