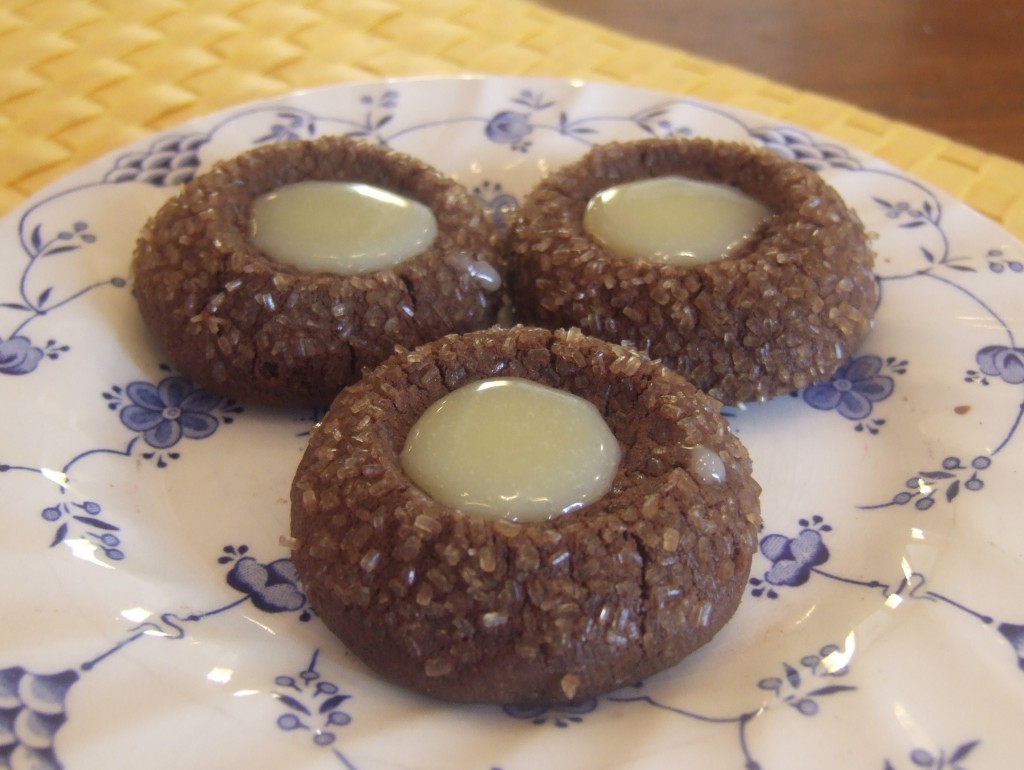 If you already know what a sucker I am for chocolate+mint it will come as no surprise that I adore these cookies all out of proportion. They are a little like French sables, ("sable" meaning sand but no, of course they don't taste like sand. Nobody would eat that. It's a reference to a slightly crumbly texture), which are a kind of shortbread.  More than anything, these reminded me of Dorie Greenspan's "World Peace Cookies" from her book Baking: From My Home to Yours (the name coming from a comment that the deliciousness of these cookies could bring about global harmony, should they be deployed strategically).    
The Baked guys say you can eat them at room temp. or right out of the fridge; I tried them both ways and they're right: they are equally good chilled and un-chilled.  The little white-chocolate-mint centers are dreamy and creamy and I love the contrasting crunch of the coarse sugar on top.    
The recipe recommends that you remove the cookies 10 minutes into baking to re-indent the "thumbprint" (I did mine with a 1/4 teaspoon rather than my actual thumb, for consistency's sake) and it is absolutely necessary. I also gave mine another dent immediately after they came out of the oven. You do not want to lose your white-chocolate-mint-cream holder!   Speaking of the mint cream, I think I was a little stingy with it and had a little leftover (which I unfortunately had to eat by the spoonful.  So sad).  Next time I might make the indentations a little bigger so as to accommodate more filling. 
I really can't say enough about these little gems.  I used an ice-cream scoop to portion them and I always find that so much easier than rolling out dough, so that's anther plus in my book.  They would make a great addition to your holiday cookie repertoire but don't limit them to Christmas.  There are already too many perfectly good cookies (and other sweets) that we only make in December.  I suspect these freeze very well too.