Jump to recipe
What did Cook's Illustrated want?  "A juicy cutlet that kept its crunch."  When did they want it?  "Twenty years ago would have been nice but now works."
As with many popular dishes there are many bad ways to make chicken parmesan and many points where you can go wrong and end up with dry chicken coated in soggy crumbs swimming in bland sauce with tough cheese. Which begs the question: if this gets ruined so often why is it so ubiquitous and so popular? 
Because when it's good it's very, very good.
Here's what Cook's fixed: a combination of shredded cheese and panko makes a crispier crust; slicing the breast halves into cutlets reduces cooking time and helps keep the chicken from drying out; putting the cheese between the cutlets and the sauce creates a moisture barrier.
But the best adaptation, in my book, is not throwing everything into a casserole dish and baking it.  After the cutlets are sauteed, the mozzarella is sprinkled on top and they go under the boiler to melt and brown.  The sauce is spooned over the finished product, just before serving.  Well played!
As if that weren't enough, the sauce is a really good, basic, quick, easy marinara and, as written, makes enough to also sauce a pound of pasta (buccantini in this case) (or you can freeze it).  While the sauce is simmering just boil the pasta and you're 2/3 or of the way to a complete meal.
The hardest part of this recipe may be cutting the breast halves into cutlets.  All I can tell you about that is have a sharp knife, a steady hand, and take your time.  No one cares if you don't get two cutlets of exactly the same thickness (although I did.  Just sayin.)  The point is to create thin pieces of chicken that will saute quickly and evenly.  Or you can just buy them this way.  Quitter.
Here is what I forgot to do in this recipe: 1. buy fontina (so my crust was all whole-milk mozzarella); buy fresh basil; add remaining 1 tablespoon of olive oil to the marinara at the end.  And still it was an outstanding meal.  And it was a great sandwhich the next day.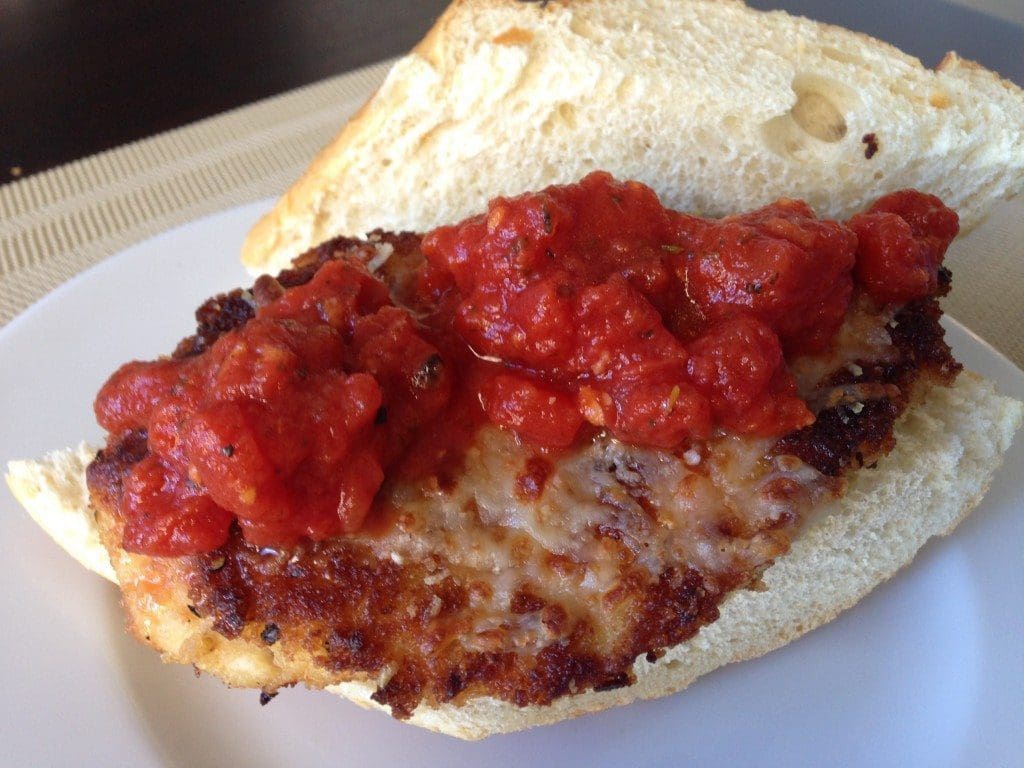 Best Chicken Parmesan (from Cook's Illustrated, September 1998)
Ingredients
1 lb. pasta
Sauce
2 tablespoons extra-virgin olive oil
2 garlic cloves , minced
Kosher salt and pepper
1/4 teaspoon dried oregano
Pinch red pepper flakes
1(28-ounce) can crushed tomatoes
1/4 teaspoon sugar
2 tablespoons coarsely chopped fresh basil
Chicken
2 (6- to 8-ounce) boneless, skinless chicken breasts , trimmed, halved horizontally, and pounded 1/2 inch thick
1 teaspoon kosher salt
2 ounces whole-milk mozzarella cheese , shredded (1/2 cup)
2 ounces fontina cheese , shredded (1/2 cup)
1 large egg
1 tablespoon all-purpose flour
1 1/2 ounces Parmesan cheese , grated (3/4 cup)
1/2 cup panko bread crumbs
1/2 teaspoon garlic powder
1/4 teaspoon dried oregano
1/4 teaspoon pepper
1/3 cup vegetable oil
1/4 cup torn fresh basil
Instructions
Bring a large pot of water to a boil for pasta.
FOR THE SAUCE:
Heat 1 tablespoon oil in medium saucepan over medium heat until just shimmering. Add garlic, ¾ teaspoon salt, oregano, and pepper flakes; cook, stirring occasionally, until fragrant (I find this happens very, very quickly, about 15 seconds). Stir in tomatoes and sugar; increase heat to high and bring to simmer. Reduce heat to medium-low and simmer until thickened, about 20 minutes. Off heat, stir in basil and remaining 1 tablespoon oil; season with salt and pepper to taste. Cover and keep warm. You will want to reserve 1/2 cup of the sauce to spoon over cutlets in the end; the rest will sauce the pasta.
FOR THE CHICKEN:
Sprinkle each side of each cutlet with 1/8 teaspoon salt and let stand at room temperature for 20 minutes. Combine mozzarella and fontina in bowl; set aside.
Adjust oven rack 4 inches from broiler element (this is the top rack in my oven) and heat broiler. Whisk egg and flour together in shallow dish or pie plate until smooth. Toss together Parmesan, panko, garlic powder, oregano, and pepper in second shallow dish or pie plate. Pat chicken dry with paper towels. Dredge cutlets, one at a time, in egg mixture, allowing excess to drip off. Coat all sides in Parmesan mixture, pressing gently so crumbs adhere. Transfer cutlet to large plate and repeat with remaining cutlets.
Add 2 tablespoons salt to boiling pasta water, cook, and drain pasta.
Heat vegetable oil in 10-inch nonstick skillet over medium-high heat until shimmering. Carefully place 2 cutlets in skillet and cook without moving them until bottoms are crispy and deep golden brown, 1½ to 2 minutes. Using tongs, carefully flip cutlets and cook on second side until deep golden brown, 1½ to 2 minutes. Transfer cutlets to paper towel–lined plate and repeat with remaining cutlets.
Place cutlets on rimmed baking sheet and sprinkle cheese mixture evenly over cutlets, covering as much surface area as possible. Broil until cheese is melted and beginning to brown, 2 to 4 minutes, rotating baking sheet as necessary for even browning. Transfer chicken to serving platter and top each cutlet with 2 tablespoons sauce. Sprinkle with basil and serve immediately with sauced pasta.
© 2023 Courtesy of katecooksthebooks.com