I defy you to find a bad sauce in Essentials of Classic Italian Cooking.  Go ahead, try, I'll wait right here.  And most of the ones I've tried are shockingly simple and quick.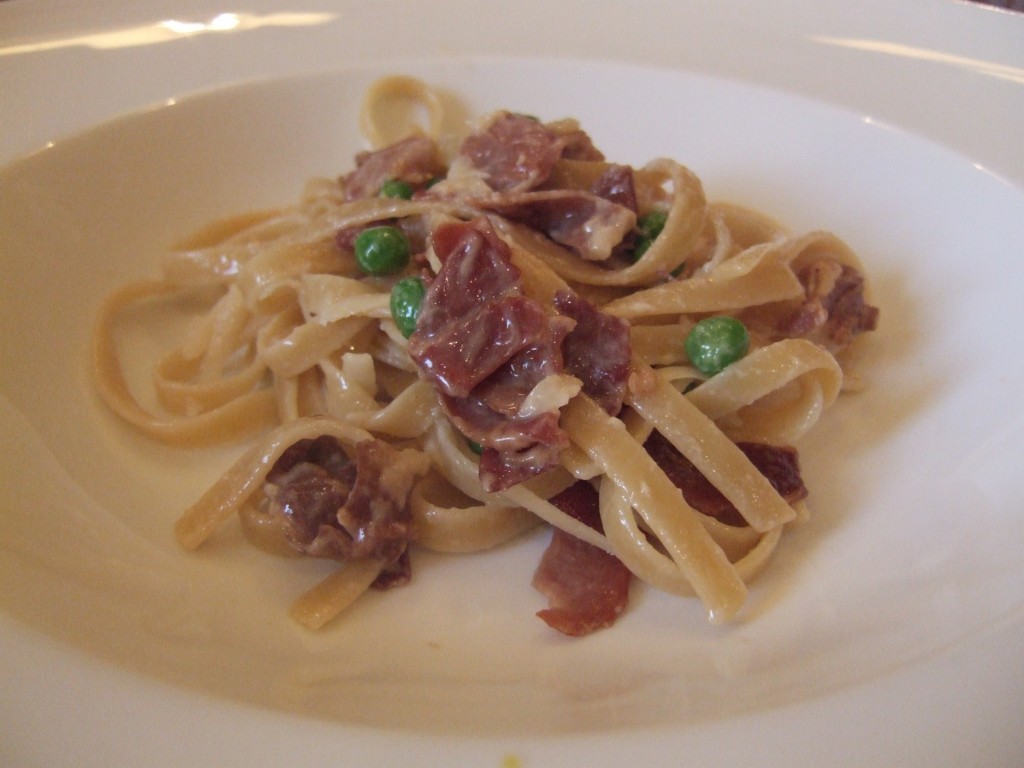 This one will make you particularly happy. Mind you, I didn't say it will make you particularly healthy. No, no way. Not with bacon (prosciutto), cream, butter and cheese (the peas were my half-hearted attempt to add some nutritional value and color contrast). So don't eat it every night and don't lick the bowl. Not even after everyone else is gone and you're doing the dishes. You can eat the little pieces of cheese-coated prosciutto that cling to the serving spoon — that doesn't count. That's part of the clean up.
Fetuccine with Prosciutto and Cream Sauce
Adapted from Essentials of Classic Italian Cooking, by Marcella Hazan
For 4 servings
Printable version
1/4 lb. prosciutto, country ham, or bacon
3 tablespoons unsalted butter
1/2 cup heavy whipping cream
1/2 cup frozen peas
1 lb. fettucine
1/4 cup freshly grated parmigiano-reggiano
Shred the prosciutto into narrow strips (or chop the ham or bacon into 1/2″ pieces). Put into a saucepan with the butter, turn on the heat to medium, and cook for about 3 minutes, stirring occasionally, until browned.
Add the heavy cream and cook, stirring frequently, until you have thickened and reduced it by one third. Add the peas and continue cooking briefly, just to warm the peas. Add salt and freshly-ground pepper to taste.
Meanwhile, cook pasta in a large pot of salted water and drain.
Toss the sauce with the cooked pasta, add the grated parmesan, toss again, and serve at once.