This is May. She is 9 years old and she's as sweet and perfect as a bon bon. I have known her since she was the size of a bon bon too but what I didn't know is that she's an accomplished crepe-maker.  Apparently, she saw this on Hell's Kitchen and thought "how hard can that be?"  She uses an electric crepe-maker which, as you can see, can be put on a lower counter top for her and keeps her away from an open flame on the stove.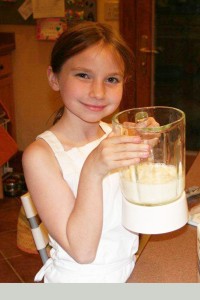 When I found out that she possessed these magical powers I asked if she would share them with me and the small, but highly discerning, segment of the world that reads my blog. She agreed because she loves her Aunt Kate and hopes that when she goes to college she will get care packages full of treats and home-made goodies just like her sister Jane.
Thank you sweet girl!
May's Crepes
Makes approximately 9 crepes
2 large eggs
1 cup milk
1/3 cup water
1 cup all purpose flour, preferably bleached
¼ teaspoon salt
2 tablespoons butter, melted
In a blender or food processor, blend the eggs, milk, water, flour, salt and butter for 5 seconds or until smooth. Repeat if necessary. Cover and refrigerate for at least one hour, and up to 24 hours. (we make the crepe batter, and then prepare whatever fillings we are using while the batter is chilling).
Heat your non-stick crepe pan to medium high heat until hot. (If you are using a regular pan, coat it with butter before you put crepe batter in).
Pour in 2 or 3 tablespoons of batter for a 6 or 7 inch pan, or ¼ cup for a 9 or 10 inch pan. Cook until almost dry on top and lightly browned on the edges, about 1 minute. Loosen the edges with a thin spatula and flip the crepe using your fingers or the spatula, then cook the other side for about 15 seconds. Turn the crepe out onto a clean towel to cool. Repeat with the remaining batter, stacking the crepes as they are cooked. You can keep them in the oven set to warm while you make the rest of the crepes.
You can fill your crepes with butter and sugar, Nutella, sautéed mushrooms, cheese, or anything else that sounds good to you. We have tried all of these and they have been a success.