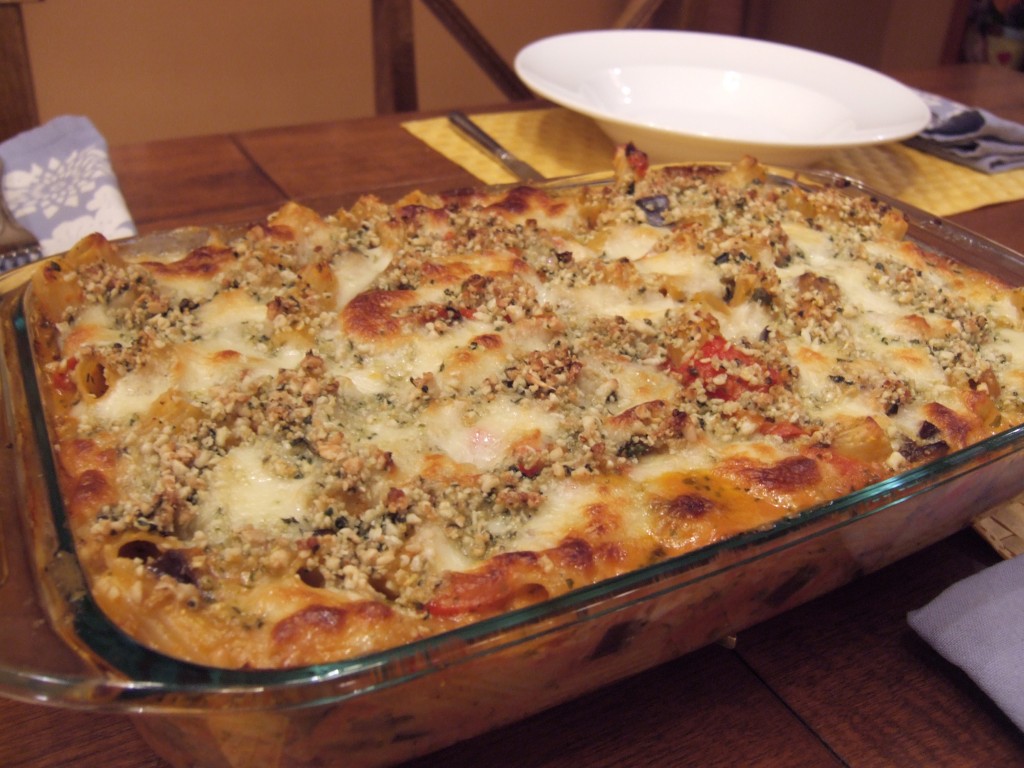 This is what comes from reading Bon Appetit right before lunch.  Everything looks good.  Turns out, this dish really was.
This is probably not a weeknight meal as it has a few components, all of which take some time.  But well worth it. 
The first part is an oven-roast of eggplant, bell peppers, and grape tomatoes.  This, it seems, could be adapted in many ways: zucchini, butternut squash, asparagus, etc.  The "crunch" part is a combination of basil, pine nuts and garlic, pulsed in the food processor.  The sauce — canned tomatoes, cream, more basil and garlic –is also whizzed up in the processor and not cooked.  Then you boil the rigatoni.  The whole thing gets mixed together and goes into a casserole dish, the "crunch," along with some cubed mozzarella goes on top and it bakes for about 25 minutes.  (I found I only had half the required basil so I used 1 cup vs. 2.  In the dead of winter, with those precious little packs of basil going for $2.50 it was just not going to happen.)
Obviously, not a dish that will stand you well for bathing suit season but I think you could cut back here and there to make it a little more healthy without losing flavor.  The cream, for instance, could be half-and-half or you could use less of it.  And it was seriously difficult to put an entire pound of whole-milk mozzarella on top.  You could use part-skim and/or use 1/2 a pound and would not miss it.  And whole wheat pasta would work really well here too.
This is not unlike lasagna but a nice change from it.  You could certainly prepare all of the components ahead and refrigerate them.  You should probably be able to freeze the whole, assembled, dish ahead since it's so similar to lasagna.  It says it serves 8 but really it's more like 10 and that could include some seriously hungry people.
This is from the current (March, 2011) issue of Bon Appetit and can be found here on Epicurious.com.