I don't know what I was thinking but I scheduled several warm, substantial dinners during a week when the temps were consistently above 80 degrees (I guess I was thinking "It's October").
Nevertheless, we're heading into warm, substantial food season and next week this dish might seem inspired and rather brilliant. You will say to yourself "Root Vegetable Cobbler! Why, that's exactly what this rainy, dreary, soul-killing day requires!"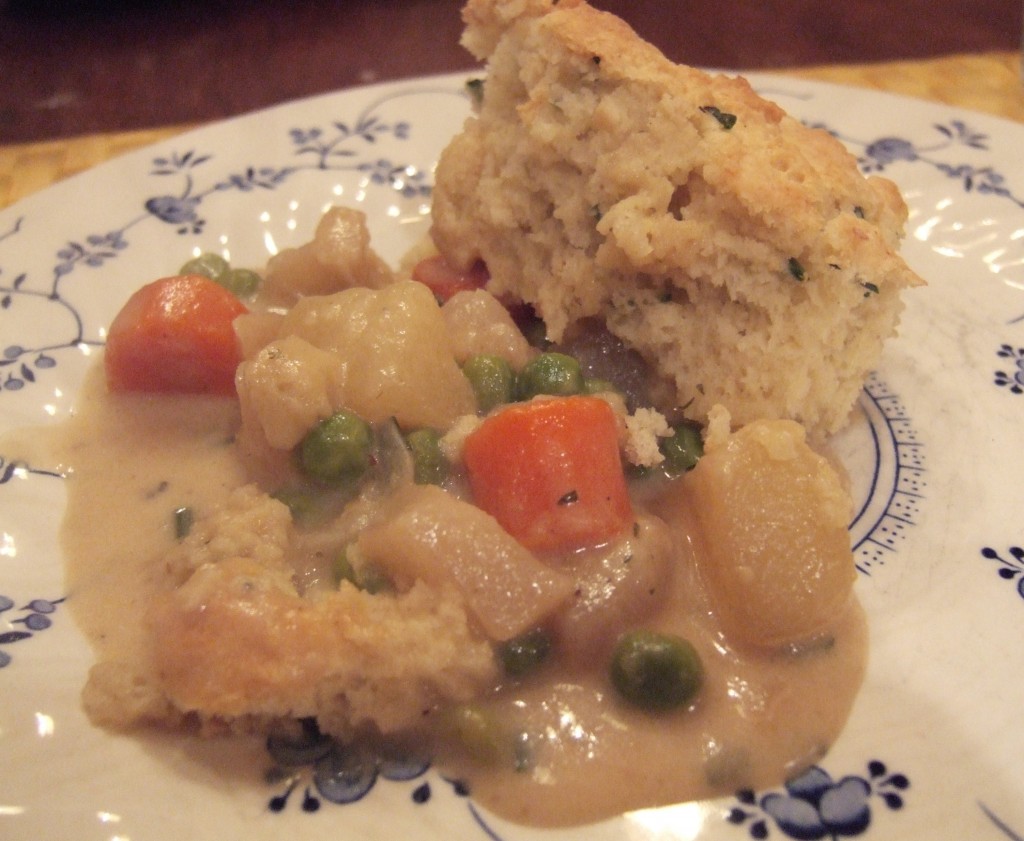 I've been making this for a long time and it's one of our favorites.  It suits our resident vegetarian and is very adaptable.  You can substitute parsnips for the turnips, sweet potatoes for the white potatoes, green beans for the peas, etc.  You could swap out some of the white flour for whole wheat. You can even make this in individual ramekins which would be perfectly adorable. Tonight when I was eating it I thought "This might be good with stuffing on top instead of biscuit" (I happen to think most things taste better with stuffing but that doesn't mean I'm wrong in this case).
So print the recipe out and keep it handy. I know you're going to want it soon enough.
Root Vegetable Cobbler
Serves 8
Printable version
Filling
3 tablespoons unsalted butter, divided
1 large onion, chopped
1-1/2 lbs. white-skinned potatoes, peeled and cut into 1/2″ pieces
1/2 lb. turnips, peeled and cut into 1/2″ pieces
1-1/2 teaspoons dried thyme, or 3 teaspoons fresh, minced
3/4 teaspoon ground cumin
1/2 teaspoon freshly-ground black pepper
14-oz. can (or 1-3/4 cups) vegetable broth
1 cup water
1 cup whipping cream
1 cup frozen peas
1/4 cup chopped fresh chives
3/4 teaspoon salt
1 tablespoon unbleached, all-purpose flour
Biscuit Topping
2 cups unbleached, all-purpose flour
1 tablespoon baking powder
1 teaspoon salt
1/4 cup chopped fresh chives
6 tablespoons chilled unsalted butter, cut into 1/2″ pieces
2 large eggs, lightly beaten
1/2 cup milk
Preheat oven to 450 degrees.
For filling: melt 2 tablespoons butter in a heavy large pot or (preferably) a dutch oven over medium-high heat. Add onion and saute until deep golden, about 7 minutes. Add next 5 ingredients and cook, stirring occasionally, for 2 minutes. Add broth and 1 cup water; bring to a boil. Reduce heat, cover and simmer until vegetables are almost tender, about 10 minutes. Stir in cream, peas, chives and salt. Bring mixture to simmer. Mix remaining 1 tablespoon butter and flour with a fork in small bowl to blend. Stir into vegetable mixture; simmer until mixture thickens slightly, about 5 minutes. Pour vegetable mixture into a large oven-proof baking dish, set aside (can be prepared 1-1/2 hours ahead. Let stand at room temperature).
For biscuit topping: Whisk together flour, baking powder and salt in a large bowl. Stir in chives. Add butter; rub in with fingertips until mixture resembles coarse meal. Add eggs and milk and stir until soft, moist dough forms.
Turn dough out onto generously floured surface. Form into a shape that corresponds with your baking dish and either fold in half or break up into smaller pieces and transfer to the top of the filling in the baking dish. Place dish on large baking sheet. Bake until top is golden and filling is heated through and bubbling, about 18 minutes. Let stand 5 minutes. Serve hot.