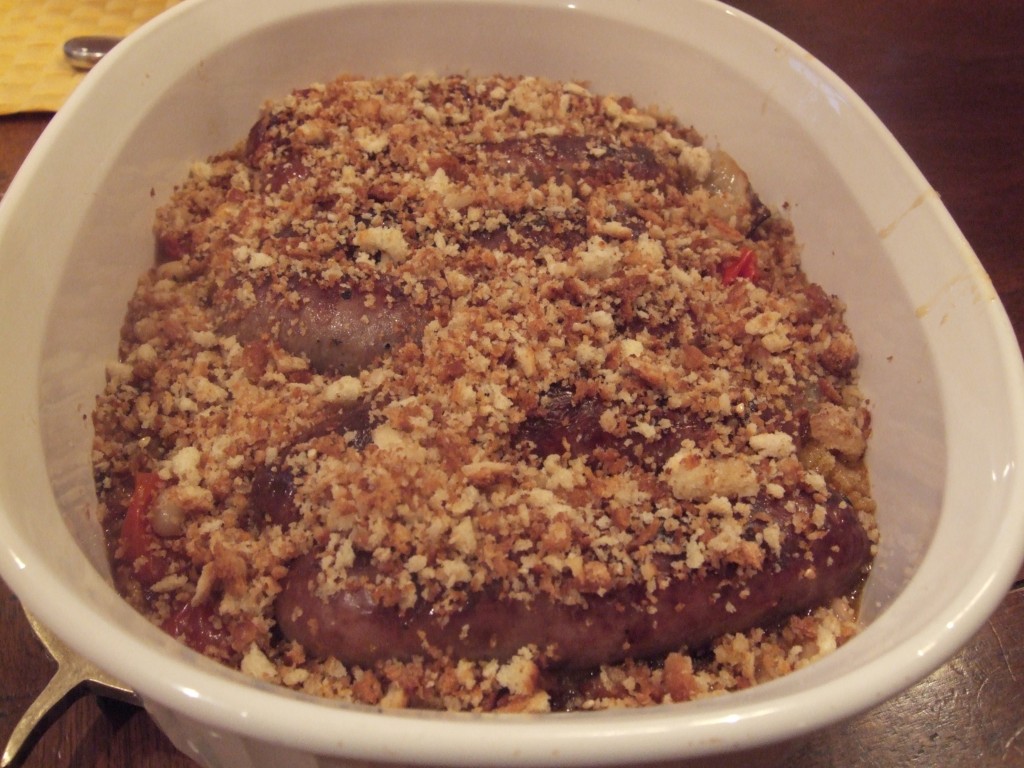 Please sit down because I have something very important to say to you: you must make this dish as soon as humanly possible.  Are you at work?  Feign illness and leave immediately.  Don't like beans?  Get over it.  
Why do I feel so strongly about this recipe?  For one thing, the difficulty level is possibly that of "Beagle." 
The flavor is unforgettable.  It will make your house smell like some kind of rustic yet refined neighborhood French bistro that you perhaps frequent in your fantasy life. Even after I was done eating I kept sticking my fork back into the serving dish for one more bite. 
For the three of us I cut this recipe down by two-thirds.  The vegetarian ate around the sausages but I wonder if you could make this with fake sausages, or at least part real/park fake.  Maybe someone can try it out and report back. You could certainly use turkey sausage. 
I only now realized that I forgot to add the balsamic vinegar so obviously it works without it.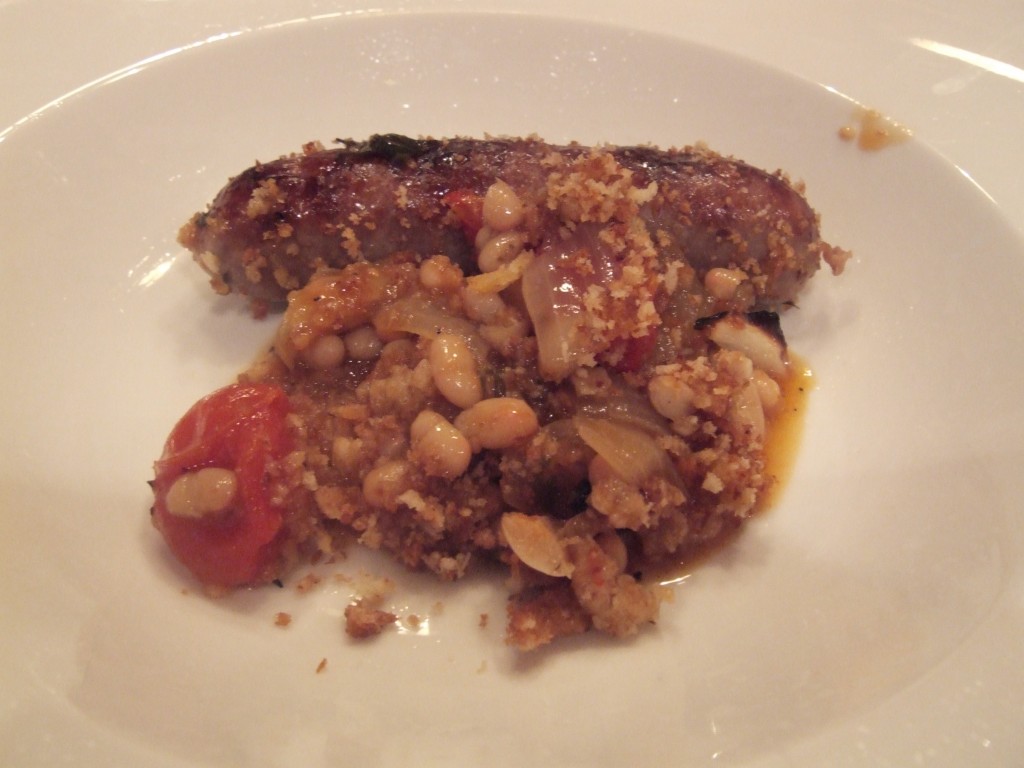 Cassoulet-Style Italian Sausages and White Beans
Adapted from Perfect One-Dish Dinners, by Pam Anderson
Serves 8
Printable version 
4 slices good quality white bread, torn into medium pieces
2 tablespoons unsalted butter, melted
2-1/2 lbs. sweet Italian sausages
3 pints cherry tomatoes
1 large onion, cut into 1″ chunks
4 large garlic cloves, sliced
3 tablespoons extra-virgin olive oil
1-1/2 tablespoon balsamic vinegar
2 teaspoons dried thyme (or 4 teaspoons fresh)
3 bay leaves
Freshly-ground black pepper
3 15-oz cans white beans, undrained 
Adjust oven rack to lowest position and heat oven to 425 degrees. 
Pulse the bread in a food processor until you have coarse crumbs. Toss with butter and toast in a skillet over medium heat until golden brown. Set aside. 
Mix sausages, tomatoes, onion, garlic, olive oil, vinegar, thyme, bay leaves and pepper in a large, heavy roasting pan. Set pan in oven and roast until sausages are brown and tomatoes have broken down, about 45 minutes. Remove from oven, stir in beans, and continue to roast until casserole has heated through, about 10 minutes longer. Fish out bay leaves, sprinkle with bread crumbs and serve.