Yum yum yum.  I made this and had my mom and her boyfriend, Rudy (my photography life-coach) over for dinner and everyone loved this dish.   Special thanks to my neighbor, Jennifer, who saved me from having to make a THIRD trip to the store by hooking me up with some baking powder. It was so nice that I'm seriously considering not throwing my trash in her garbage cans anymore.
I made this dish ahead through the biscuit part.  As you will see, you use frozen butter for the biscuit topping and I thought if the butter warmed up it would defeat the purpose.   But you can assemble the biscuits up until the part where you need the frozen butter and you'll be just about ready to go when your guests arrive.  I popped mine in the oven just as we sat down to have our appetizers and the timing worked out well.
What I love about this dish, and this whole approach, is that it is familiar "comfort food" — warm, friendly, casual — and yet it doesn't rely on a can of cream of mushroom soup or a tube of chemically-enhanced biscuit dough.  At the same time, it's easy.  The addition of leeks and apples make it slightly different from most chicken potpie recipes and the sherry makes the sauce more interesting.
Although Pam calls for rotisserie chicken, what I recommend is that you plan to make this dish the same week you make chicken stock.  When I make stock I usually use 2 whole chickens which leaves me with lots of good chicken meat that I can use for something else.  Sometimes I make tostadas, sometimes chicken salad, sometimes enchiladas but this would be perfect too.  You might also want to pull this recipe up in a couple of months when you've got leftover turkey.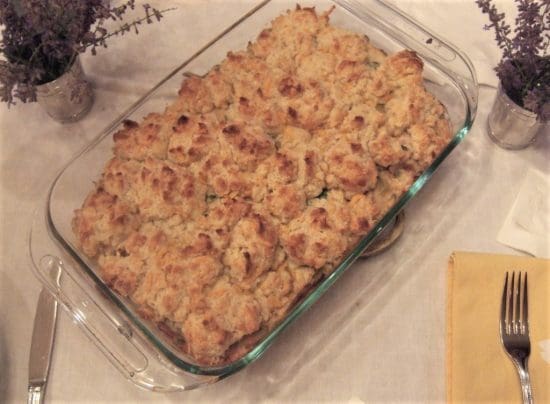 One of the best things about this book is that the recipes are grouped together as complete meals.  So, according to the book's suggestion, I served the potpie with Perfect Spinach-Artichoke Dip, Mixed Greens with Shredded Carrots and Dried Cranberries, and the Giant Linzer Cookie for dessert (wait 'til you see that!).  They all worked really well together and I'll post my reviews of each of them soon. First, I have to go to New York for work and some "research eating."
Chicken Potpie
Adapted from Perfect One-Dish Dinners, by Pam Anderson
Printable version
Chicken:
2 cups chicken broth
1 can (12 oz.) evaporated milk
3/4 stick (6 tablespoons) unsalted butter, divided
2 large leeks, dark green leaves trimmed away, light green and white parts chopped and rinsed
2 large Granny Smith apples, quartered, cored, and thinly sliced crosswise
5-6 cups shredded chicken meat, either from stock or 2 rotisserie chickens
1/2 cup plus 1 tablespoon all-purpose flour
2 teaspoons dried rubbed sage
1/4 cup cream sherry
salt and freshly ground pepper
1/3 cup chopped fresh parsley
Biscuits:
2 cups all-purpose flour
2 teaspoons baking powder
1/4 teaspoon baking soda
3/4 teaspoon salt
3/4 cup grated sharp cheddar cheese
1 stick (8 tablespoons) unsalted butter, frozen solid
1 cup cold buttermilk
For Chicken: Adjust oven rack to lower-middle position and heat oven to 400 degrees. Microwave chicken broth and evaporated milk in a microwave-safe bowl until steamy, 3-4 minutes.
Heat 2 tablespoons butter in a large (11-12″) deep skillet over medium-high heat. Add leeks and apples and cook, stirring occasionally, until just tender, 7-8 minutes. Transfer leeks and apples, along with chicken, to a large bowl; set aside.
Heat remaining 1/2 stick (4 tablespoons) butter over medium heat in the empty skillet. When foaming subsides, whisk in flour and sage and cook until golden, about 1 minute. Whisk in hot broth-milk mixture and simmer, stirring, until sauce fully thickens, about 1 minute. Turn off heat, stir in sherry, and season to taste with salt and pepper. Stir sauce, along with parsley, into chicken mixture. Taste and adjust seasonings. Pour mixture into a 13″ x 9″ baking dish or divide between two 8″ square baking pans or two 9″ pie plates.
For Biscuits: Mix flour, baking powder, baking soda, salt, and cheddar with a fork in a medium bowl. Using a box grater, coarsely grate frozen butter into dry ingredients, mix quickly with fingertips to evenly blend. Mix buttermilk into dry ingredients with a fork until dough just comes together. Pinch dough with fingers into small rough rounds and drop evenly over filling. Bake until pastry is golden brown and filling is bubbly, 30-35 minutes. Cool for 5-8 minutes and serve.
Make ahead: you can make all or half of this to save. If frozen, bake at 400 degrees for approximately 1 hour.