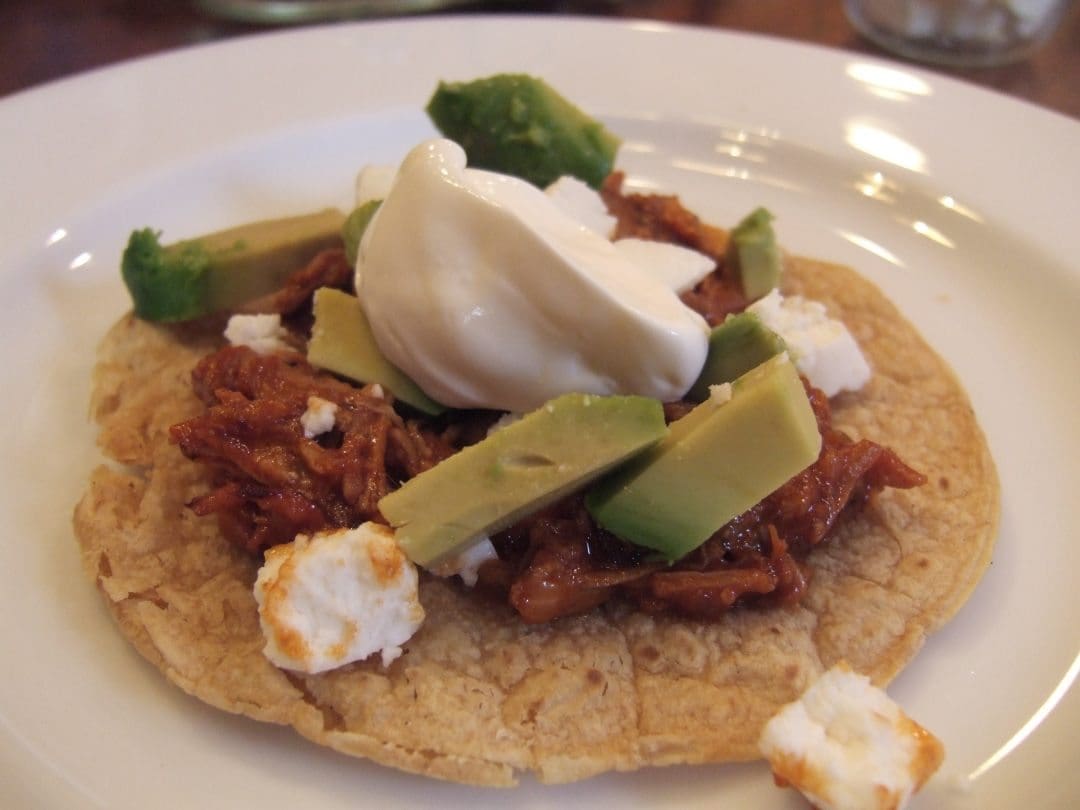 Although this dish takes a little time to throw together, most of that is the meat simmering so it's pretty easy.  I made it even easier (and slightly more healthy) by baking the tortillas vs. frying them.  I used a pork shoulder instead of a butt because — you guessed it — that's all they had at my regular store and I felt lucky to find even that.
The recipe is from the March, 2010 issue of Cook's Illustrated and it says you can also use the meat for tacos or burritos or over rice.
Spicy Mexican Shredded Pork Tostadas (Tinga)
Adapted from Cook's Illustrated
Serves 4-6
Tinga
2 lbs. boneless pork butt, or shoulder, trimmed of excess fat and cut into 1″ pieces
2 medium onions, 1 quartered and 1 chopped fine
5 medium garlic cloves, 3 peeled and smashed and 2 minced or pressed through     garlic press (about 2 teaspoons)
4 sprigs fresh thyme
2 tablespoons olive oil
1/2 teaspoon dried oregano
1 14-oz. can tomato sauce
1 tablespoon ground chipotle powder (or 2 minced canned chipotle chiles)
2 bay leaves
Tostadas
12 6″ corn tortillas
Vegetable oil spray
Garnishes
Queso fresco or feta cheese
Fresh cilantro leaves
Sour cream
Diced avocado
Lime wedges
For the Tinga: Bring pork, quartered onion, smashed garlic cloves, thyme, 1 teaspoon salt, and 6 cups water to simmer in large saucepan over medium-high heat.  Reduce heat to medium-low, partially cover, and cook until pork is tender, 75-90 minutes.  Drain pork, reserving 1 cup cooking liquid.  Discard onion, garlic, and thyme.  Return pork to saucepan and, using potato masher, mash until shredded into rough 1/2″ pieces.  (Can be refrigerated at this point for up to 2 days).
Preheat oven to 400.
Heat olive oil in a 12″ nonstick skillet over medium-high heat until shimmering.  Add shredded pork, chopped onion, and oregano.  Cook stirring often, until pork is well browned and crisp, 7-10 minutes.  Add garlic and cook until fragrant, about 30 seconds.
Stir in tomato sauce, chipotle powder, reserved pork cooking liquid, and bay leaves; simmer until most of the liquid has evaporated, 5-7 minutes.  Remove and discard bay leaves and season with salt to taste.
Meanwhile, spray both sides of tortillas with vegetable oil spray and arrange on two baking sheets.  Place in oven and bake until beginning to crisp, about 12-15 minutes.
To serve, divide meat among the tortillas and pass garnishes separately.