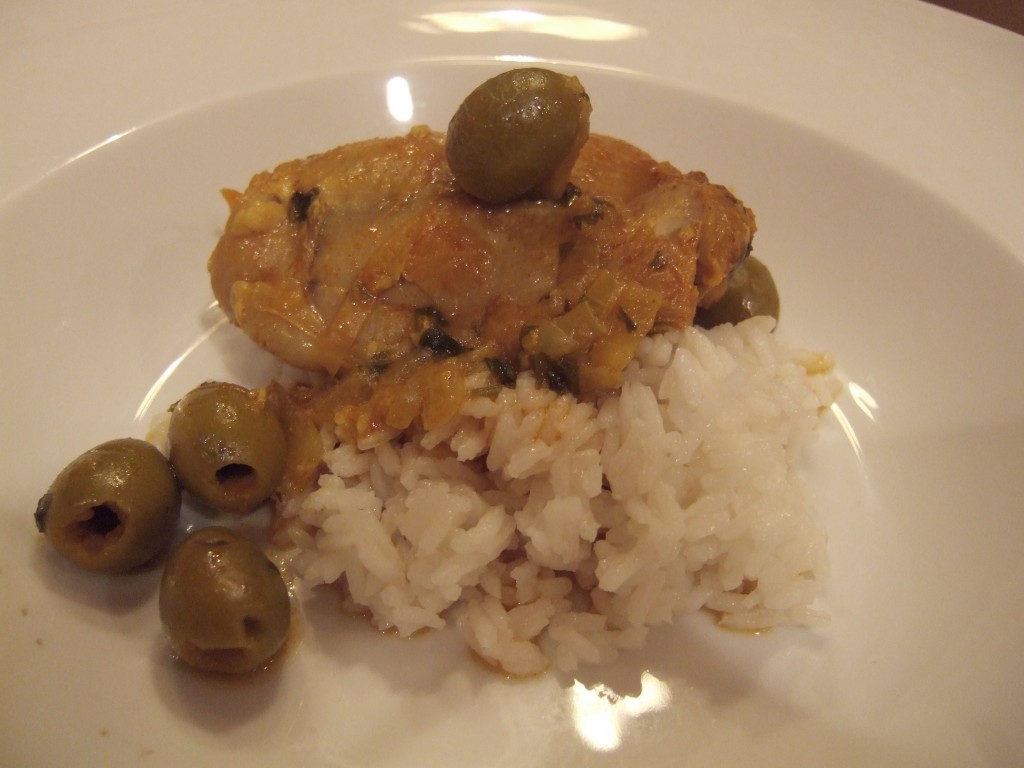 This was a great dish with wonderful flavor. Even the husband liked it a lot, despite the fact that it's all dark meat.
Also I think I've found a new favorite spice: smoked paprika. Smokey, as you might expect, and complex. Best of all, McCormick makes it so they had it at Jewel, Home of One-Stop-Shopping for Those with Extremely Low Expectations.
I adapted the recipe slightly. It calls for cooking everything in a casserole but because it spends the whole time on top of the stove, I used my vessel of choice, the Le Creuset dutch oven.
The rest is simplicity itself: layer some sliced onions on the bottom of the pot, add 8 skinned chicken thighs, sprinkle with a wonderful blend of spices, add chicken broth and simmer for 30 minutes.
Then you boil some olives separately and discard the liquid. I'm tempted to skip this next time as I love the flavor of olives and hated to dilute them.
One glaring error in the recipe though is that they don't insist that you serve it with something absorbent. At the last minute I realized that rice would be perfect but you should plan on it. If not rice then noodles.  Even with cooking a little extra time, the sauce is very saucy; really more of a stew than anything else.
As much as I liked this I'm tempted to play with it. Adding a touch of yogurt to the sauce at the end is a thought. Also throwing some frozen peas in during the last 10 minutes of simmering seems like a nice way to add color and another vegetable.
The recipe suggests an optional brining of the chicken and Hesser encourages you to do it. I'm going contradict her and say that it's really unnecessary. These are chicken thighs: they're impervious to over cooking and will always be moist. Don't bother.
Moroccan Chicken Smothered in Olives from The Essential New York Times Cookbook.