This is, by far, the weirdest stir-fry dish I have ever made or heard of.  Part of the reason I decided to make it was because it was so intriguing in its improbability.  Had the normally sane and rational Mark Bittman taken leave of his senses?  Was the date on this April 1?  Had Sandra Lee taken over the New York Times dining section in a brief and successfully covered-up coup? Creamed corn?
The end result was no less perverse than the concept but you know what?  It's kind of good.  More than kind of.  Once you get past the disturbing resemblance to a platter of beans and weenies…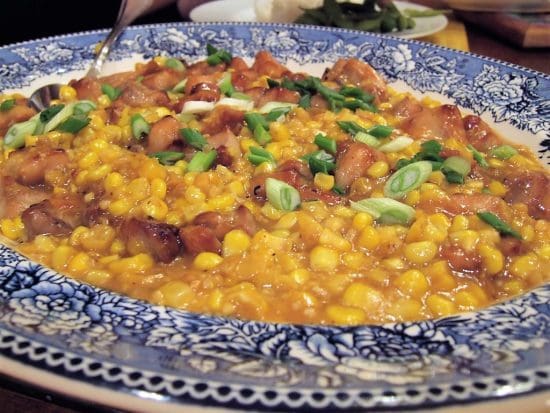 you begin to appreciate it.  Even Amanda Hesser says "its success cannot be explained.  Just enjoy it."
One small note: the recipe does not specify but I removed the skin from the thigh meat I used in this dish.  I also added the scallions since I had run out of cilantro.  It definitely needs something green.
Stir-Fried Chicken with Creamed Corn (wow, still hard to even type it), by Mark Bittman, is on page 483 of The Essential New York Times Cookbook.