Jump to recipe
Use this cake carefully as it will stop any show.  It will suck all attention out of the room and command the respect and admiration of all who behold it.  And it tastes good.
Make no mistake though: it's a project.
I made it as part of a multi-course Christmas dinner, all of which I stubbornly and ridiculously insist on making myself, and I don't know that I recommend that.  But if you're asked to bring a dessert, or if you're the type who inflicts un-asked-for cakes on people, this could be your jam.
The real show-stoppy part is the easiest.  The charming frosted rosemary and cranberry garnish is simple but also so festive and special.  And all it takes is a dip in simple syrup and a roll in some sugar.  Regular, granulated, sugar, not special "frosting sugar" from Williams-Sonoma that costs $15.99 for an 8-ounce jar or anything.*
The "project" part comes from having to make 1. A three-layer cake, 2. Cranberry curd, 3. Buttercream frosting, 4. Regular simple syrup for garnish-dipping AND 5. Grand Marnier-flavored simple syrup (I used Triple Sec) for brushing on the cake layers.  Then assemble, brush on syrup, pipe some frosting, add curd, frost sides and top, bedazzle and then why not make a Cosmo since the Triple Sec is out?
Kate notes:
It keeps well, I think because of the olive oil. I made it the day before, wrapped each layer in saran wrap and then wrapped all three and left at room temp.  I suspect it would keep for even longer.
Do not use Whole Foods butter. In case you haven't noticed their butter, while perfectly fine tasting, is much yellower than Land O Lakes so your frosting will not have that lovely freshly-driven snow finish.  Obviously doesn't affect the taste at all but for those of us who like to be our own harshest critics it's pretty glaring.  (To further demonstrate my capacity for self-criticism it's driving me bonkers that you can see the outlet behind the cake in the pic above.  It's this kind of thing that's hurting my chances for a Pulitzer I'm quite certain.)
I used fresh cranberries as they're everywhere this time of year so go ahead and do that if you're so inclined.
The garnish-frosting technique is so easy and fun it's got me thinking what else can I do it to? Orange slices would be fun and would work well with this cake.  Strawberries on top of a cheesecake?  Hell yah.  My point is: expect a lot of frosted garnishes in 2020.
*As far as I know I am making this up and W-S does not sell this particular product  (although they do sell Peppermint Snow — $19 bucks for 5 ounces of crushed up candy canes).  But it's just a matter of time.
And here's my lovely daughter.  She's a show-stopper too 😉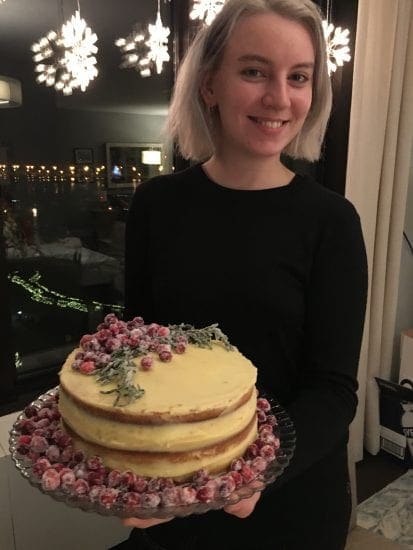 Cranberry-Orange Olive Oil Cake, Cook's Country December-January 2020
Ingredients
Cake

2 ⅔ cups (13⅓ ounces) all-purpose flour
1 ½ teaspoons baking powder
1 ¼ teaspoons table salt
4 large eggs plus 1 large yolk
2 cups (14 ounces) plus 2 tablespoons granulated sugar, divided
1 tablespoon grated orange zest
1 ⅓ cups extra-virgin olive oil
1 cup plus 2 tablespoons milk
½ cup Grand Marnier or other orange liqueur, divided

Cranberry Curd

12 ounces (3 cups) fresh or frozen cranberries
1 cup (7 ounces) sugar
2 teaspoons grated orange zest plus ¼ cup juice
¼ teaspoon table salt
2 large eggs plus 2 large yolks
8 tablespoons unsalted butter, cut into ½-inch pieces and chilled

Garnish

1 ¾ cups (2¼ ounces) granulated sugar, divided
2 (3"- to 4"-long) rosemary sprigs
10 ounces (2½ cups) fresh or frozen cranberries

Buttercream

20 tablespoons unsalted butter, softened
2 ½ cups (10 ounces) confectioners' sugar
⅛ teaspoon table salt
2 tablespoons heavy cream
2 teaspoons vanilla extract
Instructions
FOR THE CAKE:
Adjust oven rack to middle position and heat oven to 350 degrees. Grease three 9" round cake pans, line with parchment paper, grease parchment, and flour pans. Whisk flour, baking powder, and salt together in bowl.
Using stand mixer fitted with whisk attachment, whip eggs and yolk on medium speed until foamy, about 1 minute. Add 2 cups sugar and orange zest, increase speed to high, and whip until mixture is fluffy and pale yellow, about 3 minutes.
Reduce speed to medium and, with mixer running, slowly pour in oil. Mix until oil is fully incorporated, about 1 minute. Reduce speed to low, add half of flour mixture, and mix until incorporated, about 1 minute, scraping down bowl as needed. Add milk and ¼ cup Grand Marnier and mix until combined, about 30 seconds. Add remaining flour mixture and mix until just incorporated, about 1 minute.
Divide batter evenly among prepared pans and smooth tops with rubber spatula. Bake until cake is deep golden brown and toothpick inserted in center comes out with few crumbs attached, 25 to 30 minutes. Transfer pans to wire rack and let cool for 15 minutes. Loosen cakes from pans with paring knife, then invert onto greased wire rack and discard parchment. Invert cakes again and let cool completely on rack, about 1½ hours.
Bring ¼ cup water, remaining 2 tablespoons sugar, and remaining ¼ cup Grand Marnier to boil in small saucepan over medium heat; cook until sugar dissolves, about 3 minutes. Let cool completely, about 30 minutes. Once cooled, brush top and sides of cake layers with syrup.
FOR THE CRANBERRY CURD:
Meanwhile, cook cranberries, sugar, orange zest and juice, and salt in medium saucepan over medium-low heat, mashing occasionally with potato masher, until cranberries have mostly broken down and mixture measures 1¼ cups, 10 to 12 minutes. Strain cranberry mixture through fine-mesh strainer into bowl, pressing on solids with rubber spatula to extract as much puree as possible. Discard solids.
Whisk eggs and yolks into cranberry mixture in bowl. Return mixture to saucepan and cook over medium-low heat, stirring constantly with rubber spatula, until mixture is thickened and registers 175 degrees in multiple spots, 5 to 7 minutes.
Off heat, stir in butter until incorporated. Transfer curd to bowl, press piece of plastic wrap directly onto surface of curd, and refrigerate for at least 3 hours. (Curd can be refrigerated for up to 3 days.)
FOR THE GARNISH:
Place ¾ cup sugar in shallow dish; set aside. Bring 1 cup water and remaining 1 cup granulated sugar to boil in medium saucepan over high heat; cook, stirring constantly, until sugar dissolves, about 3 minutes. Off heat, dip rosemary sprigs in sugar syrup, then roll in sugar in dish. Transfer to plate.
Stir cranberries into syrup and let syrup cool completely, about 30 minutes. (Cranberries in syrup can be refrigerated for up to 24 hours.) Drain cranberries in fine-mesh strainer; discard syrup. Working in 3 batches, roll cranberries in sugar in dish and transfer to large plate. Let stand at room temperature to dry, about 1 hour.
FOR THE BUTTERCREAM:
Using stand mixer fitted with whisk attachment, whip butter on medium-high speed until smooth, about 20 seconds. Add sugar and salt and mix on medium-low speed until most of sugar is moistened, about 45 seconds. Scrape down bowl. Add cream and vanilla and whip on medium-high speed until light and fluffy, about 4 minutes, scraping down bowl as needed.
Fill pastry bag fitted with a ½-inch-wide straight tip with 1 cup buttercream. Place 1 cake layer on cake turntable. Using half of buttercream, pipe ½" high ring of buttercream around top perimeter of cake layer. Spread half of cranberry curd (about 1 scant cup) evenly inside buttercream ring.
Place second cake layer on top, pressing lightly to adhere. Pipe another ½-inch-high ring of buttercream around top perimeter of cake layer with remaining buttercream in pastry bag. Spread remaining cranberry curd evenly inside buttercream ring. Top with remaining cake layer, pressing lightly to adhere. Refrigerate to allow buttercream to firm up, about 30 minutes.
Spread ¾ cup buttercream evenly over top of cake. Spread remaining buttercream evenly over sides of cake to cover with thin coat of buttercream. Run edge of offset spatula around cake sides to create sheer veil of buttercream so cake beneath is visible. Sprinkle ½ cup cranberries around bottom of cake. Pile remaining cranberries on top of 1 side of cake in half-moon shape. Place rosemary sprigs at base of cranberries. Serve.
© 2023 Courtesy of katecooksthebooks.com