Tis a gift to be simple, which, I know from Wikipedia, was written by Madonna.  True story.
This cake is culinary proof.  It's just eggs, butter, flour, sugar and two kinds of vanilla: extract and bean paste.  Cook it all in an 8″ pan and eat and serve plain like a good Quaker or tart it up like a pageant queen.  Either way, it's delicious.  I don't know how this can be but it had the best elements of a pound cake and an angel food cake — the interior was dense and moist and the edges had a nice crusty, buttery lightness.
I made this cake twice over a few days; once was to bring to work so I topped it with blueberries dusted in confectioner's sugar for ease of portability.  The second time was for home use so I got to sample the excellent chantilly cream (notice the delectable flecks of vanilla from the bean paste).  A small scoop of cinnamon or coffee ice cream would also be lovely but please try not to pile too much stuff on it, as least the first time, as you will overwhelm the delicate but highly enjoyable vanilla flavor.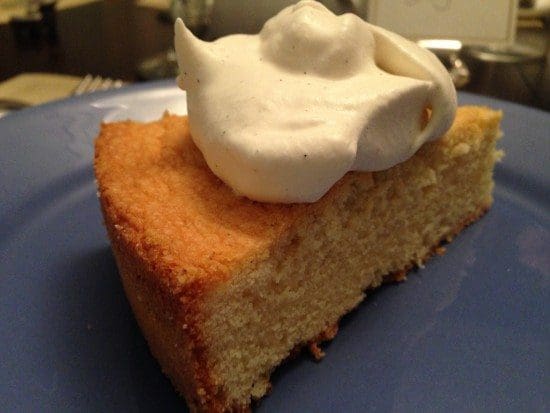 The recipe is from Food52 and interestingly, although they say it's from the Nielson-Massey site, I searched but couldn't find it anywhere and fell down a very dangerous rabbit hole of vanilla-inspired foods and cocktails.  So we're going to have to trust the folks at Food52 and use their adaptation.