So when I was in Italy last month (and I never get tired of saying that.  Check back here in 2013 when I preface everything with "When I was in Italy 27 months ago…") one of the highlights of my trip was a visit to Orvieto, a city once populated by the Etruscans, in Umbria.  It has an absolutely spectacular cathedral and, like a lot of Italy, it's really just one damn beautiful thing after another.   
Another feature of the town is Zeppelin restaurant and its owner Lorenzo Polegri.  Lorenzo took our group through the market in Orvieto (where I got to sample porchetta, yum yum yum), then demonstrated how to make pasta and a simple tomato sauce, then fed us a memorable meal.    
Arguably the best part of that meal was a lentil and farro soup with some home-made sausage on top.  Chef Polegri's intern, Nikki Olst (from Colorado) was nice enough to share the recipe with me and I made it tonight.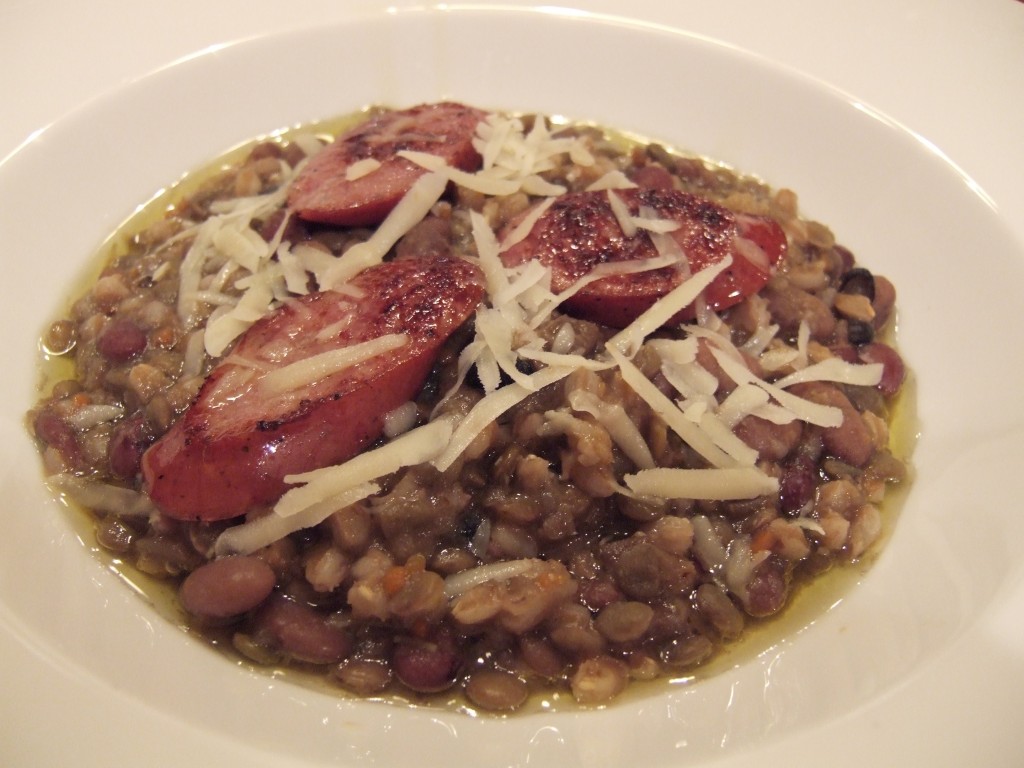 It was truly delicious and both my husband and daughter gobbled it up. Before you add the meat and cheese, it's vegetarian and vegan.  And even with those garnishes it's still awfully healthy.  You can find farro, as well as many types of dried beans, at Whole Foods.  I would encourage you to salt this dish aggressively and invite all your Etruscan friends over to eat it as it makes about 7 quarts of soup.   
Finally, the next time you're anywhere near Orvieto, please stop by Ristorante Zeppelin and try to meet Lorenzo; you won't be sorry!   
Lentil and Farro Soup
Adapted from Ristorante Zeppelin
Makes 8-10 servings
1 1-lb. package green lentils
1 1-lb. package farro
1 lb. of mixed beans
5 carrots, peeled and roughly chopped
1 bunch celery, roughly chopped
3 white or yellow onions, roughly chopped
salt and freshly-ground pepper
olive oil
parmesan cheese
1-1/2 lbs. Kielbasa or other sausage, slice into 1/4″ to 1/2″ diagonal slices
Puree the vegetables in a food processor or, as they do at Zeppelin, run through the meat grinding attachment to your standing mixer.  Add 2 tablespoons olive oil to each of three large saute pans and heat over medium heat.  Divide the vegetable paste equally among the three pots (with one being at least 7.25 quarts) and saute until vegetables are softened, about 5-7 minutes.  Add the lentils to one pan, the farro to another, and the beans to the third, along with enough water to barely cover.  Cover and cook over low heat until softened, about 30 minutes for the farro and lentils, about 2-1/2 hours for the beans.  (Check water often and add more as necessary.  Season each pot with salt and pepper to taste.
Add the content of two of the pans to the largest pan and taste again for salt and pepper.  Heat through.  While soup is heating, sautee sausage slices in 1 tablespoon of oil in large skillet over medium heat.  Set aside.
Ladle into soup plates or bowls and garnish with sausage, olive oil, and parmesan.