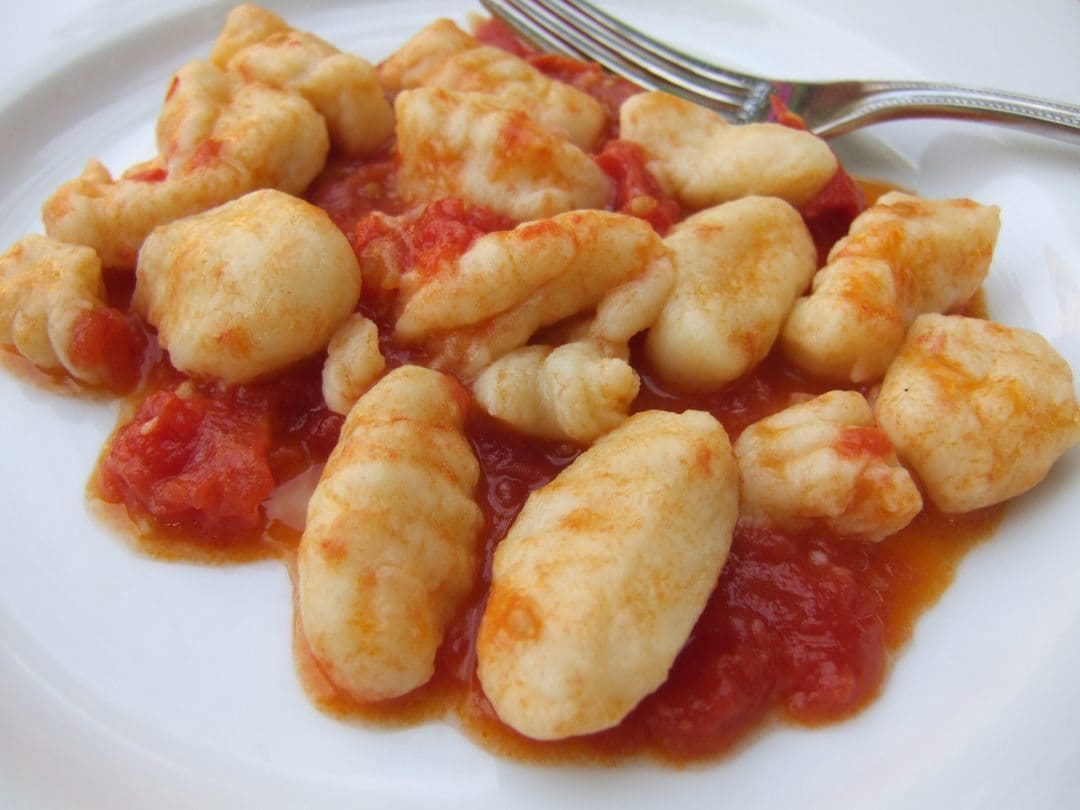 I need to buy a ricer.  Because I hate my food mill and I am going to want to make gnocchi more often.
This is from the September/October issue of Cook's Illustrated.  I did not use one of the yummy-sounding sauces because I've always wanted to try Marcella Hazan's Tomato-Butter sauce with gnocchi.
If you have not heard about Marcella's sauce prepare to have your culinary world rocked.
Because all it is is this: 2 lbs ripe tomatoes (or in every other month but August/September, a 28-oz can whole tomatoes), 1 onion cut in half (you heard me; just cut the thing in half.  Don't peel it, don't do any fancy Top Chef onion mincing moves), and 5 tablespoons of butter.  Throw it all into a pan, bring it to a simmer, and cook for 45 minutes.  That's it.
You have now made the most amazing tomato sauce ever.  It's like a magic trick.
As for the gnocchi, they are achingly good.  They melt in your mouth.  They practically float from weightlessness.  But they'll take you an hour and a half to get done.
One thing that drives me crazy about Cook's is their standard omission of "make ahead" instructions.  I have to believe you could freeze the gnocchi, or at least refrigerate them, but there are no guidelines in the recipe.
Potato Gnocchi
Serves 2-3
Ingredients:
2 pounds russet potatoes
1 large egg, lightly beaten
3/4 cup plus 1 tablespoon (4 oz.) all-purpose flour, plus extra for the counter
1 teaspoon plus 1 tablespoon salt
Preheat oven to 450 degrees.  Poke each potato several times with a paring knife.  Microwave for 5 minutes, flip, and microwave for an additional 5 minutes.  Transfer to oven and cook for an additional 18-20 minutes, or until skewer glides easily into center.
Using an oven mitt or kitchen towel, hold potato in one hand and peel with a paring knife.  Press through a ricer or food mill onto a rimmed baking sheet.  Spread potatoes into even layer and let cool for 5 minutes.
Transfer 16 oz. (about 3 cups) potatoes to a large bowl.  Gently stir in egg with a fork until just combined.  Sprinkle flour and 1 teaspoon salt over mixture and combine with fork until no dry flour remains.  Press into a ball and transfer to a lightly floured counter.  Knead gently until smooth, about 1 minute.
Line a rimmed baking sheet with parchment and dust generously with flour.  Cut dough into 8 pieces.  Gently roll one piece of dough into a 1/2″-thick rope and cut into 3/4″ lengths.  Holding fork with tines facing down, roll each piece of dough, cut side down, across the tines to create ridges.  Transfer to baking sheet and repeat with remaining dough.
Bring 4 quarts of water to boil, add remaining tablespoon of salt and gently add half of the gnocchi.  Cook until firm and just cooked through, about 90 seconds (gnocchi should float to the surface after 1 minute).  Using slotted spoon, transfer cooked gnocchi to serving bowl and cook the remaining half.
Add sauce to taste and serve immediately.