This is so good I'm almost able to forgive it for breaking my blender.  And it is the absolute perfect food for January.  It will warm you and comfort you and fortify you against any arctic blasts you may have to fight this month.  And all while making up for absolutely every bad thing you ate over the last few weeks.
You heard me.
The moment you eat this magical stew it will turn back your digestive clock and erase all the crazy stuff you've been eating since Halloween.  Peppermint bark, latkes, gravy, stuffing, the tryptic of flavored popcorn that was an actual meal for me more times than I want to tell you, things in puff pastry, things dusted with powdered sugar and oozing with jam, fun, boozy holiday-themed cocktails, and all manner of butter-and-cream-delivery-systems.  Like it never happened.  Because this stuff is pure health in a bowl.  It also happens to be vegetarian and vegan.
Aside from the large amount of spinach and lack of anything bad, the game-changing ingredient is smoked paprika.  That's what elevates this to another level and gives it a wonderful, unique, smoky kick.  Smoked paprika has been one of my favorites for a long time for just this reason and you can find it right in the spice aisle of your regular grocery store (McCormick makes it).
The tragedy was in the preparation.  Kenji tells you to toss half the canned tomatoes with their juice and a 1″ piece of peeled ginger into a blender.  Against my better judgment I did it assuming Kenji knows we home cooks just have regular blenders, not these.  But my judgment was right this time: the ginger must have gotten wedged under the blades which caused the turny things on the base of the blender to snap off in their efforts to keep the thing running.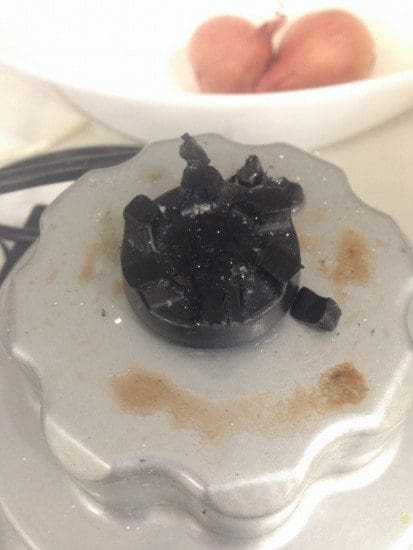 So let me save you some cash: mince, or at least chop, the ginger before you put it in the blender.  You might even be able to do this step in the food processor, provided the liquid does not rise above the hole in the middle.
I sliced up a baguette, brushed with olive oil, and grilled in my Lodge grill pan, then rubbed with the cut side of half a garlic clove as an accompaniment.  Like most soups and stews it improved over the next couple of days.
You can find it right here on the Serious Eats site.