I always give Cook's Illustrated credit for teaching me how to cook and it will always be my go-to for classic American dishes like fried chicken, chocolate cupcakes, pancakes, burgers, roast turkey and countless other things I cannot live without.
But Milk Street is currently blowing the figurative lid off my metaphorical pressure cooker.
In case you don't follow the cooking magazine world with breathless anticipation, or even mild, snarky, passing interest like me, you may have missed the news that Chris Kimball, the man who made Cook's Illustrated and its parent company, America's Test Kitchen, such an important voice in cooking, recently departed that company in a manner that was not totally of his choosing and left in his wake bitterness, bad feelings, and, of course, billable hours to infinity and beyond.  Good luck with all that!
(if you want to read all about it, including a comment that makes every English major's hair stand on end: "Milk Street appears to rest 'on literally the shoulders of our intellectual property,'" it's right here.)
He has now launched a new project called Christopher Kimball's Milk Street (initially Milk Street Kitchen until the nearby Milk Street Cafe got in line to sue him).  It promises "a new approach to cooking" and extends "an invitation to the cooks of the world to sit at the same table."  I'm up for the former and highly skeptical of the latter but why not?
Of the handful of recipes I've made so far I can say that he has delivered on his promise of incorporating tantalizing global flavors and techniques without turning everything into a 3-day project requiring ordering ingredients online and investing in specialized equipment.  In fact, I'm deeply impressed that such exciting food comes from nothing more exotic than pantry staples like cumin and paprika, combined in non-traditional (to us) ways with chicken, pasta, cilantro, mint, yogurt and eggs.
Here's a perfect example: the very first dish I made was Avocado Salad with Pickled Mustard Seeds and Marjoram Vinaigrette, the game-changer being the pickled mustard seeds. You can buy the seeds at the regular grocery store and the pickling takes all of 10 minutes, a pan and ingredients you absolutely have or can get.  Fan out the avocado, drizzle with the insanely good vinaigrette, and finish with ricotta salata, lemon juice, and salt.  Even if you manhandle the poor avocado so that it looks like it should be garnished with crime scene tape, as I clearly did, below, you will win.
Similarly familiar yet new was the Pinchos Morunos (Spanish Spice-Crusted Pork Tenderloin Bites), a dish that feels very much like the tapas it is but requires only a toss in coriander, cumin, paprika salt and pepper and a quick pan-sear.  I ate it as a main course (you're not the only one disrupting, Chris).
The Turkish Beans ask only that you find some Pomegranate Molasses. Living in a big city this was easy for me but I'm certain you could leave off if necessary or perhaps use balsamic vinegar.  I did not have time for the pickled tomatoes but I will absolutely try them later.  After the mustard seeds I am all about pickling.
Turkish Meatballs is ground beef, familiar herbs and spices, and yogurt.  If you're a Cook's Illustrated fan you will recognize our old friend panade which seems to have migrated over to Milk Street along with a few million customer emails and some intellectual property.  Allegedly.
And lest you think the folks at Milk Street are a bunch of humorless food-science wonks who need nothing more inebriating than finding a good spring-loaded falafel scoop, they throw in an awesome drink, like an Old Fashioned made with Orgeat.
My only disappointment so far was the Piadina, a kind of Italian naan.  I used beef tallow which I was stupid enough to think was the basically the same as lard.  Nope.  And all I could taste in my piadina was the strange, slightly non-food-like flavor of the tallow.  I should have used vegetable shortening as the recipe recommends.  All my bad.  I will try again because it's quick, easy and probably delicious, because how could a prosciutto and ricotta sandwich not be?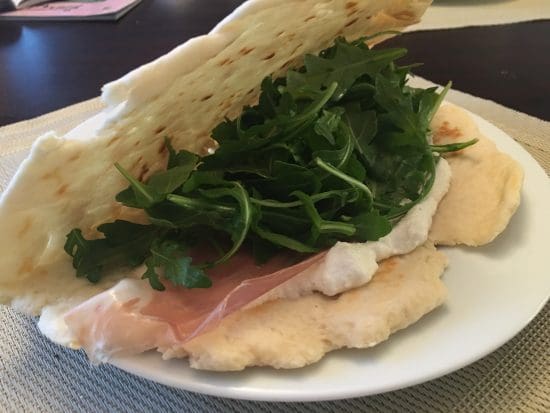 There are already many recipes I want to try from the four existing issues of the maagzine, including: Chinese Chili and Scallion Noodles, Japanese Fried Chicken (Karaage), Gemelli Pasta with Chevre, Arugula and Walnuts, Chili-Pineapple Margaritas,Welsh Rarebit, Pistachio-Cardamom Loaf Cake, Cuban-Spiced Burgers, and Piri Piri Chicken.
Stay tuned…