Have I got a cake for you.
This is absolutely one of the most satisfying cakes — both for eating and for gazing at fondly — I've ever made.  For that reason I forgive it for taking up my entire Sunday afternoon.  And making me half-watch "The Real Housewives on Beverly Hills" because there's nothing on on Sunday afternoons.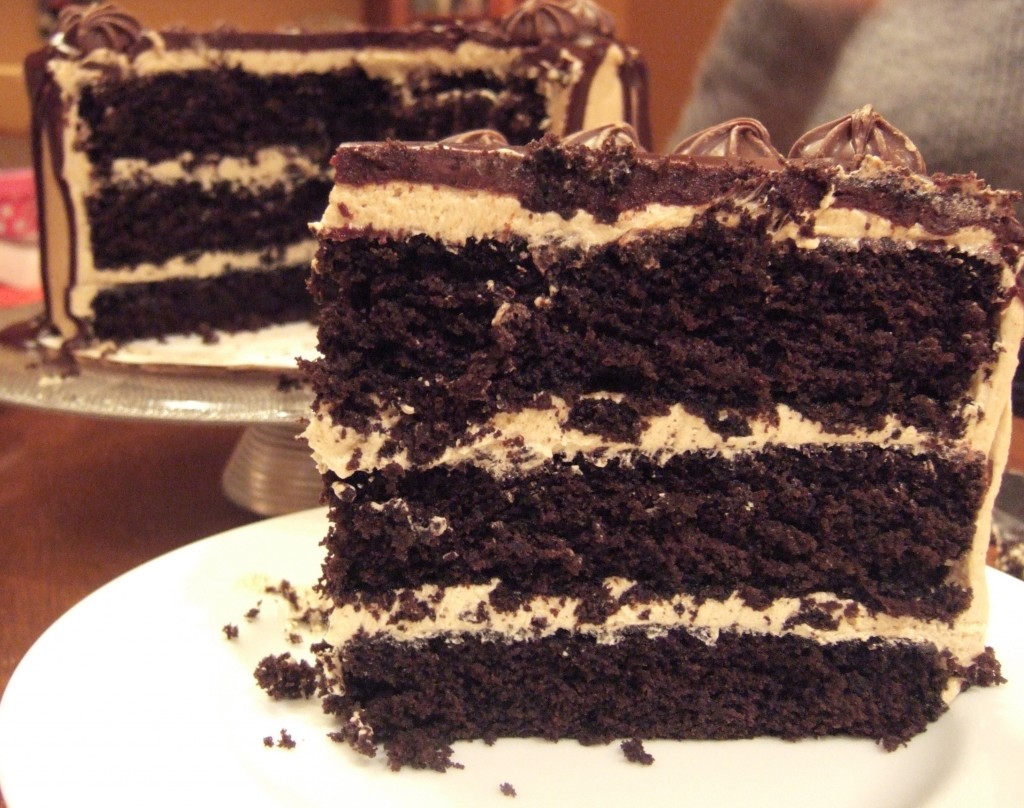 The cake itself is straightforward.  Not having the 8-inch cake pans called for I used 9-inch ones and they worked perfectly. After cooling, it's frosted with a coffee buttercream unlike any buttercream I've made and a quick internet search still leaves me a little nonplussed. You cook sugar, a little flour, milk and cream directly over medium heat. You then transfer it to a stand mixer where the heat is beaten out of it. Only then do you add the butter, followed by vanilla extract and coffee extract.  The cooked frostings I'm familiar with (7 Minute Frosting, Mousseline) contain eggs in some form (hence the need for cooking) so I'm not sure what's going on here.  If anyone has any clue what this is called I'd love to know. Maybe they just made it up?
Here's a handy tip for getting smooth sides to your layer cakes: remember when I told you to buy a bench scraper?  And that you would use it more than you thought?  Well one of the many uses for this inexpensive tool is you can press it against the side of your frosted cake while rotating the turntable and get a beautifully smooth surface.  Just like a good coat of spackle.
The glaze goes on after frosting and here I think there is an error in the directions. At the end of the "Make the Chocolate Glaze" part of the recipe it says "Drizzle glaze over the cake. Refrigerate the cake for about 15 minutes to set the glaze before serving." But right after that, under "Glaze the Cake," there are more detailed instructions on glazing. I read both several times and still couldn't figure it out so I went with the more detailed version.
I couldn't find chocolate-covered espresso beans at the regular grocery store so I used Brach's Chocolate Stars, which I had kind of forgotten existed but are really a cute cake decoration.
The cake is dense and unbelievably moist (and, consequently, a little delicate. Be VERY careful transferring the layers when you're assembling). The buttercream is quite astoundingly good and if the glaze (or is it a ganache?) had its own Twitter account it would have thousands of followers. But, as I said, this is a project. And, between the cake, the buttercream, and the glaze you will go through a sinful 6 sticks of butter.
With some planning, you could condense the time it takes to make this down to probably two hours or so.  Mine took longer because I did frivolous things like laundry between steps.  It's a good choice if you want to bring something that will steal the show at work or a family gathering or you want to intimidate friends with your formidable baking skillz.  This cake will cause people to regard you with equal parts fear and admiration.  It's powerful stuff.
Chocolate Coffee Cake with Dark Chocolate Ganache adapated from Baked Explorations.