Jump to recipe
Apparently a Minneapolis tavern specialty, the Juicy Lucy is a burger with the cheese — are you sitting down? — inside.
Wow, way to blow our minds, half of the Twin Cities!  I'm not sure what the advantage is to a cheese surprise but it's a cheeseburger and I adore them.
The problem solved with this burger is mainly one of dryness.  In order to cook it long enough to get the cheesy interior to melt, you have to over-cook the meat.  Until now!  Cook's solves this with one of their favorite tricks: the panade.  A paste of bread (I use those random left over hot dog or hamburger buns in my freezer) and milk that you fold into the beef that keeps it moist even if cooked to that unholy state of "well done."  And I can testify that it works because I somehow skipped the part where I was supposed to turn the grill burners down to medium and definitely over-cooked these suckers.  And still they were good. Truly juicy with a really nice flavor.  A very good recipe.
The cheese is…I guess cute is the best word, but maybe not cute enough to go to the trouble again.  Not to mention that because you're splitting 1 slice among 4 burgers you are obviously suffering a net loss of cheese, and because we are a nation that directs a lot of its ingenuity into thinking of ways to get MORE cheese on our pizzas, I'm going to say this is something up with which we will not put.
BUT, if you are having a Prince-themed cook out, or want to punk your guests into thinking you forgot to cheese their burgers, or maybe you just like oozy things (and I judge you not)…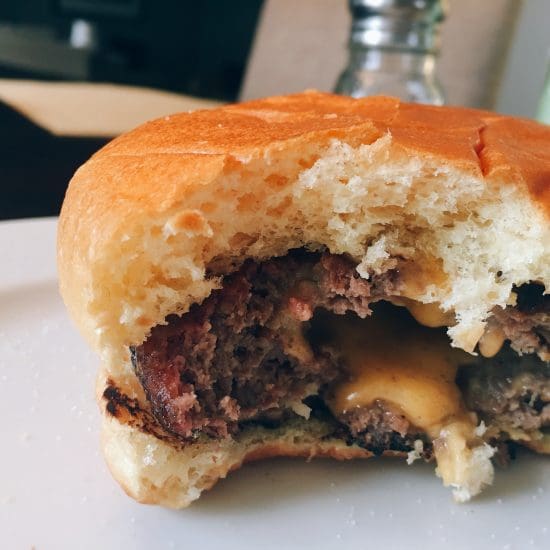 you are all set.
Juicy Lucy Burgers from Master of the Grill
Ingredients
2 slices hearty white sandwich bread (or a leftover hot dog or hamburger bun), torn into 1" pieces
1/4 cup whole milk
1 teaspoon garlic powder
3/4 teaspoon salt
1/2 teaspoon pepper
1-1/2 lbs. 85% lean ground beef
1 (1/2"-thick) slice deli American cheese, quartered
4 hamburger buns
Instructions
In a large bowl and using potato masher, mash bread, milk, garlic powder, salt and pepper into smooth paste. Add beef and lightly knead mixture until well combined.
Divide meat into 4 equal portions. Flatten half of 1 portion and encase 1 cube cheese to form a mini burger patty. Mold remaining half portion of meat around mini patty and seal edges to form ball. Flatten ball with palm of your hand, forming 3/4"-thick patty. Repeat with remaining meat and cheese. Cover and refrigerate patties for at least 30 minutes or up to 24 hours.
For a charcoal grill: open bottom vent completely. Light large chimney starter half filled with charcoal briquettes (3 quarts). When top coals are partially covered with ash, pour evenly over grill. Set cooking grate in place, cover, and open lid vent completely. Heat grill until hot, about 5 minutes.
For a gas grill: turn all burners to high, cover, and heat grill until hot, about 15 minutes. Turn all burners to medium.
Clean and oil cooking grate (I almost never oil the grate, fyi). Place burgers on grill and cook, without pressing on them, until well browned on first side, 6-8 minutes. Flip burgers and cook until well browned and cooked through, 6-8 minutes. Transfer burgers to platter, tent with aluminum foil and let rest for 5 minutes. Toast buns on grill while burgers are resting. Serve.
© 2023 Courtesy of katecooksthebooks.com